Wednesday, June 1, 2022
For youth players in Michigan, there is no wrong path
Distinguishing between facts and myths key
---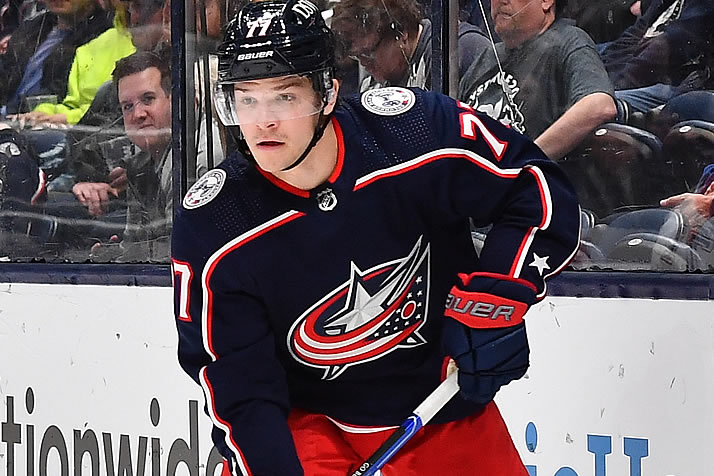 Columbus defenseman and former Michigan captain Nick Blankenburg (Photo: Ben Jackson/Columbus Blue Jackets)
By Sean Hogan, Jayson Hajdu and Mike Snee
Where an aspiring NCAA Division I men's hockey player plays hockey in the years prior to his college hockey career can vary quite a bit from player to player. Most often, the answer is a function of where that players lives.
In the state of Michigan, a young player has the enviable choice of either youth hockey or high school hockey. The reality is that most NCAA Division I hockey players from Michigan spend time playing either 18U or high school hockey, proving there is no incorrect route. However, it's vital that one's perception of reality is in line with actual reality, and that decisions are based on the latter.
There is no one optimal path for a Michigan hockey player to reach the NCAA Division I level, as evidenced by the variety of leagues in which youth players in Michigan are competing at the age of 17. College Hockey Inc. explored those paths by tracking and studying each of the 156 players who earned NCAA Division I commitments from May 14, 2018, through Nov. 15, 2021.
Several dominant themes emerged from that study:
The average age of commitment in Michigan was 18.6, reinforcing the importance of patience for aspiring NCAA Division I players.
NCAA Division I players from Michigan are playing 18U, high school, prep or junior hockey at age 17 and still have an opportunity to play NCAA Division I hockey. In essence, youth players in Michigan can be playing either 18U or high school hockey with equal opportunity to eventually reach NCAA Division I.
Michigan 18U (37 percent of commitments) and high school (24%) hockey are both viable and proven routes to NCAA Division I hockey.
Most players will not commit to an NCAA Division I school until playing NCAA-eligible junior hockey after high school, exactly in line with national studies College Hockey Inc. conducted in 2020 and 2019. In fact, 70 percent of commitments were made to players playing college-eligible junior hockey.
The vast majority of NCAA Division I players from Michigan will play in one of the NCAA-eligible junior leagues, with most coming from the USHL, NAHL and BCHL.
Four committed players have played some Tier III junior hockey at some point during their careers.
Youth hockey players in Michigan possess an advantage in that they already live in one of the most highly scouted hockey areas in North America. Seeking youth hockey opportunities outside of the state is, in almost all cases, unnecessary.
"Thanks to College Hockey Inc., players and their parents now have important factual information to assist them in making decisions," said USA Hockey Assistant Executive Director Bob Mancini. "The developmental timeline is uniquely different for each athlete and the decisions you face should never be based on what other players are doing. What we should all realize is that there are 1,112 Americans who played NCAA Division I college hockey in 2021-22, and each one has a different story of how they got there."
---
The Data: Hockey Before NCAA
The majority of youth players in Michigan will earn NCAA Division I commitments between 18 and 19 years old while they are playing NCAA-eligible junior hockey. The average age of these commitments is 18.6-years old, ranging from 13.7 -- which occurred prior to a May 2019 recruiting rule change -- to 21.4. That average age will certainly rise due to the aforementioned rule change.
Just over 25 percent of the commitments during this period were made to players while the player was playing youth hockey (15O, 16U, 18U).
Note that one out of every four NCAA DI commitments were earned by players who played high school hockey during their career, including the likes of future University of Michigan captain Nick Blankenburg, who debuted with the NHL's Columbus Blue Jackets immediately following his senior year of college.
"I think the biggest thing is competing and working hard each and every single day," Blankenburg recently told NHL.com, "whether it was playing high school hockey or playing midget major or at Michigan or even here, just trying to compete and just trying to work as hard as I can and have fun because if I'm not having fun, why am I playing, you know? That's the biggest thing."
Where the 156 Michigan Players Played at Age 17:
League
No.
18U
43
CISAA
1
Europe
1
NAHL
25
NTDP
11
OHL
2
PREP
2
USHL
35
USHS (MI)
26
USHS (OH)
1
No data/not yet age 17
9
---
The Data: Which League Leads to NCAA?
At age 17, Michigan hockey players are playing in 10 different leagues. While this number dwindles as players get older – by age 19 or 20 Michigan players are largely playing in the USHL, NAHL or BCHL – the data tells us that there are a variety of paths to NCAA Division I.
"It is very difficult to go unnoticed in Michigan," said College Hockey Inc. Director of Athlete Relations Sean Hogan, a Michigan native and former NCAA and ACHA coach. "Whether you play for a traditional AAA power or high school hockey, Michigan is where many of the top players are playing. Plus, it's where the talent evaluators live."
Clearly, players do not need to leave Michigan to earn an opportunity. Thirty-seven percent of Michigan players who earned DI commitments spent time playing 18U AAA – all eight AAA programs had players earn commitments – while 24 percent played Michigan high school hockey at some point. Playing well is more important than where you play.
Commitments by League:
League
No.
13U
1
14U
3
15O
12
16U
23
18U
1
AJHL
1
BCHL
10
Europe
1
NAHL
51
NTDP
4
Prep
1
USHL
47
USHS
1
---
Case Study
The local presence of USA Hockey's Michigan-based National Team Development Program (NTDP) as a conduit for cultivating elite hockey talent is well known. However, only a very small handful of Michigan players will make the NTDP each year. NTDP alumni like Dylan Larkin, Jacob Trouba and Zach Werenski are among the Michigan standouts who have matriculated through that program. Other Michiganders, like Kyle Connor and Torey Krug, made the transition from youth hockey to NCAA-eligible junior hockey.
But what of the majority of youth hockey players in Michigan, who fit neither of those developmental profiles?
Connor Hellebuyck, who grew up in Michigan less than an hour from the NTDP, is a star in the National Hockey League, having won the Vezina Trophy as the league's top goalie in 2019-20. But entering his age 18 season, his destiny was still unclear, similar to most NCAA Division I-bound hockey players in Michigan.
Undrafted in the junior ranks, Hellebuyck played four years at Walled Lake Northern High School, and then turned a standout season with the NAHL's Odessa Jackalopes into an NCAA Division I scholarship with UMass-Lowell. He was also selected by the Jets in the fifth round of the NHL Entry Draft.
Hellebuyck's patience had paid off.
"Bucky came a long way that year," former Odessa Head Coach Paul Gillis told Sportsnet.ca. "But I think [that talent] was in him in the whole time – he just had to get it out."
Hellebuyck dominated in his two seasons at UMass Lowell, posting a .945 save percentage in 53 career games and winning the Mike Richter Award in 2013-14 as the top goalie in NCAA Division I men's hockey. After a year-and-a-half apprenticeship in the American Hockey League, the Jets called up Hellebuyck for good midway through the 2015-16 season.
Since then, no goaltender has appeared in more NHL games than Hellebuyck.
Blankenburg, who parlayed four standout collegiate seasons into a free agent contract with the Blue Jackets, won a state championship with Romeo High School before transitioning first to the Victory Honda 18U program, and then to the AJHL's Okotoks Oilers.
He blossomed following a position switch from forward to defense, ultimately leading to an opportunity at the University of Michigan.
"(When I started) really thinking and believing that I can (make the NHL) is probably once I got to college," Blankenburg recently told the Columbus Dispatch. "Thinking I'd really develop through my time at Michigan and just kind of see what happens from there.
"At the end of the day, I just worked as hard as I could and just competed."
Blankenburg made his NHL debut April 13, 2022, just days after captaining Michigan to the NCAA Frozen Four.
In recent years, College Hockey Inc. has produced three separate "paths" studies: a comprehensive examination in 2020, a goalie-specific analysis in 2021, and now this study focused specifically on the state of Michigan.
The conclusions across all three studies were as emphatic as they were consistent: each individual route to NCAA Division I hockey is unique, reinforcing not only the viability of youth hockey options, but the importance of patience and ability over location and age.